I just love puffins, so I planned a storytime about them for today. This storytime incorporated some nonfiction to introduce the children to the life of this amazing bird.
Books:
"Don't Copy Me!" by Jonathan Allen
"Nothing Like a Puffin" by Sue Soltis
                "There Was Once a Puffin" by Florence Page Jaques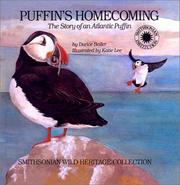 "Puffin's Homecoming" by Darice Bailer
Click here to order these books from the Heights Library catalog
I paraphrased "Puffin's Homecoming" to the children so they could understand the concept of the craft, which was to create a habitat for the puffin. Everyone started with a printout of a puffin that I found online, and was instructed to cut it out and create a collage background "home" for the puffin. Most children selected to put the puffin in the ocean with some fish, but a few chose to make up imaginary settings.