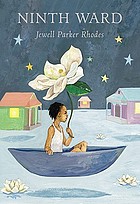 How would a child survive the furious tragedy of Hurricane Katrina?  Would it even be possible?  What kind of person, let alone child, would it take to outlast the storm, the flooding, and the loss of everything familiar? Ninth Ward is Jewell Parker Rhodes' first novel for children in which she writes about Lanesha, a twelve year-old girl who lives in the impoverished ninth ward of New Orleans.  Lanesha lives with Mama Ya-Ya, an elderly midwife who raises her with love and appreciation for Lanesha's special talent in math, her interest in words, and the ability to see ghosts.  Lanesha herself is a smart, lonely girl who loves Mama Ya-Ya very much and takes much of who she is from Mama Ya-Ya's folk wisdom.  The coming storm forces Lanesha to confront challenges almost unimaginable for a twelve year-old to face.  Lanesha, who doesn't have any friends at school, recognizes that Mama Ya-Ya has prepared her to be strong on her own, and that needs to happen now. Mama Ya-Ya tells Lanesha something about her mother (who died during childbirth), but not everything, and it hints at why Lanesha will be turn out to have great inner reserves.
"Your momma loves you. She's so in love with you, she's never left."
"But she's not at rest."
"No. She's still trying to birth you. Wants to make sure you can survive on your own."
"Doesn't make sense."
"It will." Mama Ya-Ya squeezes me. "It will."
I life onto my elbow and look at Mama Ya-Ya. She looks right back at me.
"You know something," I say.
"Yes, I know something. But it's not mine to tell, it's yours to figure out."
I feel irritated.
I get up. The sun is now low in the sky. I close my eyes. I can smell wet. Damp, rotting, salty wet. Katrina is coming.
The chapters are divided into the days before Hurricane Katrina, increasing in anxiety and uncertainty.  Lanesha is a strong girl, strong enough to take responsibility for Mama Ya-Ya, a boy separated from his parents named LaShon, and a stray puppy when Katrina finally descends on them.  Her strength is believable, partly because we know she has a special gift of sight and partly because we see how much Mama Ya-Ya has loved her and given her confidence.  If there is anything missing from this book, Shamekia and I agreed, it is a sense of fragility that we thought a twelve year-old in the middle of a natural disaster might feel.  Instead of that, Ms. Rhodes gives us an sensitive and emotional, rather than psychological, look into what it's like to be trapped inside of a hot, dark attic with no food and little water and the flood rising.  A well-written book, and worthy of the 2011 Coretta Scott King honor it received.
Reserve this book from the library
Read reviews on goodreads